Here is some background about myself. I come from working in the software and marketing industries being a developer, programmer and a UI UX Designer for a wide variety of platforms. I'm very comfortable troubleshooting Storyline with custom javascript and variables to make it SCORM or Tin Can compliant.
I'd recommend this product for medium to large organizations that require: solid functionality, decent reporting and a mobile friendly experience.
I was given the task of working with a client who had difficulty integrating Adobe Prime as a Learning Management System in their organization. Some of the issues were related to migrating from Adobe Connect (a repository for content that can be consumed for other LMS systems) and others were related to lack of documentation from Adobe Prime.
Here were some of the constraints with the project :
The majority of content was designed for Adobe Connect
Starting with a large library of content in a variety of formats that were mostly produced by Adobe Captivate
Multiple standards from a variety of different vendors
Starting with a large number of zipped folders that were made in a variety of formats e.g. zipped versions of Adobe Connect and SCORM 1.2 files
Multi-language setup
Previous administrator had uploaded Adobe Connect files to Prime
Adobe Prime has little documentation, no stackoverflow, no user forums outside of the Adobe community
Where to begin?
Prepping for Adobe Prime
First we had to do a full audit of the zipped files and source files and apply some standards e.g. all files are Captivate 10 (with standardized settings, naming conventions and outputted files in Standard SCORM 1.2 format). This required opening up the source files, making all the requested changes, saving them in the various formats, and lots of testing.
How Adobe Prime Works
The application is divided into four primary roles: Administrator, Integration Administrator, Author and Learner. Users can toggle back and forth between roles they have been assigned appropriate permission. In each of the four areas, video tutorials guide the way.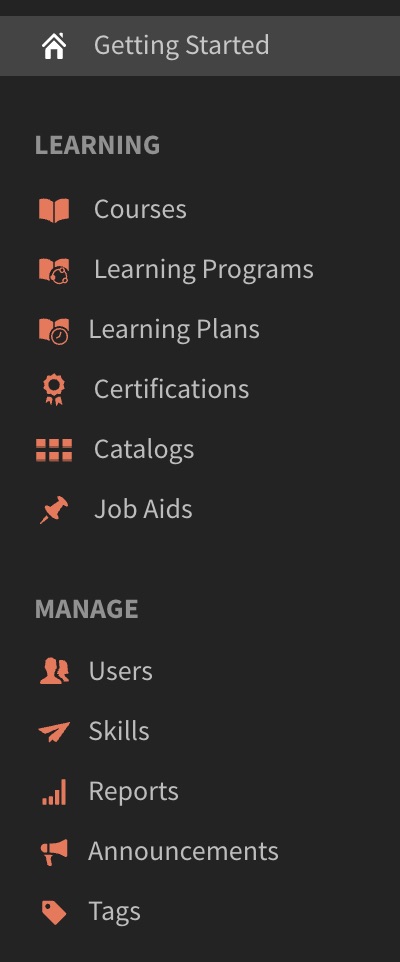 Learning Options
The learning options that we used to build a program from scratch were as follows:
1) Make sure you are logged in as an Author.
2) Add content. Go to the content Library and add your content (you'll be able to upload a a variety of different file formats.
For Interactive Content
The supported format is .zip.
Scorm 1.2
Scorm 2004
AICC
TinCan
For Static Content
Videos: mp4, .avi, .wmv, .mov, .mpg, .m4v, .3gp
Pdf
PowerPoint – .pptx, .ppt
Word files – .docx, .doc
Excel files – .xslx, .xls
Step 1. Create courses. Combine any modules you have uploaded to create a course. This was straight forward to use you can drag and drop and rearrange with no difficulty.
Step 2. Create learning programs. Combine any courses that you want in an ordered or unordered fashion.
Step 3. Add users. They can be internal and external. We found that for testing purposes it was better to do this via an incognito window. Our client wanted an external user and attach learners to that user.

Types of Users
New users can be added in a number of ways. You can enter users individually, import them in bulk, and or allow users to self-register. There are two main groups of users: internal and external.
Internal users – You can add internal learners a few different ways. You'll probably want to use the Bulk Import option. This allows you to use a standard CSV (comma-separated values or delimited) file that you generate from your organization's human resources system. This is fast and easy. Besides expected fields such as names and email addresses, you can also import fields specific to your organization to include in the reports that Prime will generate. You can even have Prime automatically create groups for you from information in the CSV file, such as job categories, departments, and other factors. You can also set up other groups and even tenant-sharing.
External users – External learners are those who are not part of your organization. From within Prime, you create a group name for an external organization or category and generate a link and QR code to send to its external users. You can brand the group as well, a nice way of differentiating each group. The users who follow the link then create their own login name and password.
Step 4. Create learning plans.  Adobe Prime lets you set up events that are based on one of these occurrences:
A new user is added
A user is added to a group
A user completes a learning object
A user achieves a skill level
A date is added
Yeah you're done…
Some Extra Notes
Reporting
Choose from sample reports or create your own. I found these to be really hassle-free. Prime tracks everything thrown at it—completion data, time spent, etc.—and then allows you to create reports from any and all data collected. You can create your own custom reports or base them on the following:
Enrolled and completed courses
Course effectiveness
Enrolled and completed learning programs
Learning time spent per course
Learning time spent per quarter
Assigned and achieved skills
Set up your X and Y axes and the time span, and you're ready to go.
Some Important Prime Features
Mobile access – Learners can download the free Captivate Prime app to take courses on their mobile devices. I'd recommend the Mobile App it seems a little bit more polished.
Fluidic Player – When students launch courses, Prime's Fluidic Player lets them very nicely experience all kinds of content, such as PDFs, videos, PowerPoints, and courses you've created in Adobe Captivate or similar products on different devices.
Adaptive video streaming – Prime is able to convert video embedded in Captivate into formats optimized for HTML5 and mobile devices.
Microlearning – The ability to combine the different resources and modules that you upload means it's easy to combine them into short courses, learning programs, or certifications.
Final Thoughts
Using the product there was a little bit of a learning curve, and some of the features seem a little bit non-intuitive,  e.g. the Left menu keeps changing when the user clicks on a link, when it might be easier to just have an expanded and collapsed menu. Also, the lack of a larger community using the product is a limitation in terms of seeing from other users what's worked and what hasn't. The product seems constantly evolving which is good and bad. Good in terms that new features are being added. However, it is bad when there is a lack of communication with its users on what those changes are. Though, the product is imperfect there is still a lot to like about this product. It's quite flexible in terms of gamification and microlearning. I'd recommend this product for people that are in this space and have been using other LMS products in the past.