Author Anders Gronstedt
The traditional model of diversity and inclusion training is broken. Recently, the Harvard Business Review explained that the $8 billion D&I training industry is at best ineffective and at worst counterproductive, making participants even more biased.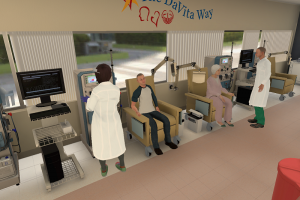 Meanwhile, a new generation of virtual reality (VR) is hailed as "the ultimate empathy machine." For instance, you can strap on a reality-bending headset and get a small taste of the bias others endure by walking a mile in someone else's virtual body. Look at yourself in a virtual mirror as a person of a different gender, age, or ethnicity. After four minutes, you'll begin to experience the "body transfer illusion": This superpower maps brains to virtual bodies and can be used to convey how a minority customer, employee, or colleague experiences the world, with the intention to spur people to think and act more inclusively.
Study upon study has validated the "Proteus effect" in which an individual's behavior in a virtual world is changed by the appearance of their avatar:
My firm, the Gronstedt Group, partnered with Providence Health to innovate unconscious bias training. The third largest not-for-profit healthcare system in the US teaches responses to microaggressions in the workplace with 3D hologram scenarios. The metaverse of real-time, spatial, 3D, immersive, and embodied simulations is upon us and promises to transform inclusion and unconscious bias training.
The bigger diversity opportunity might lie in recruitment. Anyone who has watched the coaches on the television show The Voice, with their red chairs faced away from the singers, has witnessed a blind audition in practice. Overcoming gender-biased hiring by auditioning musicians behind a screen has transformed the face of orchestras. Studies suggest blind auditions increase the likelihood of female musicians being selected by 30 percent. Women now make up half of the New York Philharmonic when 50 years ago they represented only six percent of most orchestras.
Evaluating a drywalling task on a construction site is harder to do blind, or at least it was. Now multiplayer VR provides a shared performance space for participants and instructors to interact seamlessly with hands-on skills without revealing the identity behind their avatars. Less than five percent of painters, drywallers, and glazers are women. The International Finishing Trades Institute (iFTI), the training arm of the International Union of Painters and Allied Trades (IUPAT), is determined to bring that to (at least) 25 percent.
A VR recruitment simulation will help them reach that goal. High school students can step into a virtual construction site developed by my firm. Using both hands, they practice pouring water and mixing joint compounds for drywall finishing. Grabbing a virtual "tape bazooka," they fill it with the compound, load it with a tape roll, and drag it across a drywall seam, taping it from floor to ceiling. The simulation suspends disbelief, giving young women, who perhaps couldn't imagine themselves on a construction site, the opportunity to experience a career in the finishing trades during expositions and recruitment drives. This is one of VR's superpowers, and it's key to winning diverse talent during the Great Resignation.
NASCAR is leveraging gaming to attract more minority drivers. Rajah Caruth recently took the step from driving a virtual racecar in his bedroom to becoming only the eighth black driver in NASCAR history. He came through the eNASCAR IGNITE esports competition, which was created to recruit young talent by providing a low barrier of entry to the sport. iRacing allows players to race on renowned racetracks from all over the world on a computer with a steering wheel and pedal accessories.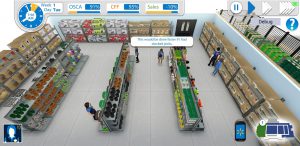 If you don't think this applies outside of professional sports, think again. Walmart is broadening its talent pool with the first "esports of retail management." More than 500,000 people have played department manager in the Sims-style Spark City mobile game developed by my firm. Feedback from female users has been overwhelmingly positive. One woman raved, "I'm not a gamer. I hate games, but this is awesome." Another woman said, "I can play this game all day long." Walmart has taken the bold step of making the game public on the Apple App Store and Google Play, broadening its reach.
The metaverse revolution promises to broaden recruitment of nontraditional hires, making selection color- and gender-blind and making corporate culture more inclusive. But this is only possible if business leaders rise to the challenge and innovate their way to a more equitable future.